1 Subject Matter and Scope This standard specifies the coal mine and coal mine, coal preparation and other work places trough belt conveyor idler rollers of peace shaped the technical requirements, test methods, inspection rules and signs, packaging, transportation, storage. 
This standard is mainly applied in the coal mine belt conveyor and the coal mine, coal preparation and other work places on the conveyor roller trough-shaped roller Peace (hereinafter referred to as rollers). 
2 Normative references 
MT820-99 conditions of coal mine belt conveyor technology 
MT 73-92 and open coal mine belt conveyor idlers varieties and basic dimensions 
MT/T655-97 coal belt conveyor roller bearing technology conditions 
GB 5675 gray cast iron grade 
GB 710 quality carbon steel, sheet steel technical conditions 
3 Technical requirements 
3.1 Peace-shaped trough idler rollers and the standards should be consistent with the provisions of MT73, and should be required to procedures approved by the manufacturing drawings and technical documents. 
3.2 Conditions of Use 
3.2.1 Environmental temperature is -10 ℃ ~ +40 ℃. 
3.2.2 Underground composition of air should follow the "Coal Mine Safety Regulations" section 104 of the requirements; 
3.2.3 allow the existence of tricking the working environment conditions; 
3.2.4 Roller should be able to adapt to the fall occurred during handling, throwing phenomenon.
3.3 Part requirements 
3.3.1 The tube can be metal or non-metallic materials, mechanical and physical properties of materials not less than Q235 steel, and other performance indicators of the quality of finished products must ensure compliance with this standard under the relevant provisions. 
3.3.2 Cast iron bearing housing parts or stampings.  Cast iron mechanical and physical properties of materials shall not be less than the HT150, stamping materials, mechanical and physical properties of not less than 0.8F high-quality carbon structural steel, nominal thickness of not less than 3mm. 
Bearing bearing bore tolerance M7. 
3.3.3 should be used bearing bearing roller bearings KA series, the nominal size of the performance parameters and technical requirements (MT/T655-97).  Imported bearing clearance when the rating of C3. 
3.3.4 roller shaft roller shaft material properties of the mechanical properties not less than Q235 steel.  Roller shaft and bearing assembly part of the diameter tolerance is js6. 
3.3.5 seal seal must have good sealing performance, can effectively prevent coal and water into the bearing, and the need to meet the standards under the relevant provisions. 
3.3.6 Grease Grease roller quality indicators used must meet the Table 1. 
Assembly requirements in Table 1 3.4
| | | |
| --- | --- | --- |
|  No. |  Test Project |  Quality indicators |
| l | Drop point. ℃ |  ≥ 175 |
| 2 | Penetration (25 ℃ 60 times), 1/10mm |  265 ~ 295 |
| 3 |  Shear stability, penetration of thousands of times |  ≤ 350 |
| 4 |  Water resistance (10% water, cut thousands of times penetration) |  ≤ 375 |
| 5 | Free alkali, NaOH% | ≤≤ 0.1 |
| 6 | Oxidation stability (100 ℃, 100h, 0.78Mpa), pressure drop MPa | ≤ 0.35 |
| 7 |  Mechanical impurities (acid sub-mediated method) | No impurities |
| 8 |  Bearing rust (52 ℃, 48h, 100% temperature) | ≥ 2 级 |
| 9 |  Similar to the viscosity (-20 ℃, D = 10 / s), P |  ≤ 15000 |
| 10 |  Life (in the use of roller bearings), h |  ≥ 20002.80 |
3.4.1 parts (including purchased parts) must have passed the test assembly shall be allowed to use; 
3.4.2 roller tube must be clean, the walls shall be painted in preservative;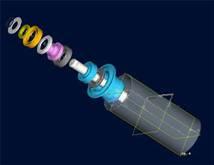 3.4.3 tube bearing assembly should be firmly and not loose; 
3.4.4 Bearings and seals must be applied within the appropriate amount of grease;
3.4.5 After the roller assembly should be flexible rotation, without jamming phenomenon; 
3.4.6 using the labyrinth seal, the inner and outer seals were loaded roller should not be set with the assembly; 
3.4.7 When the contact seal lip seal shall not damage or flanging phenomenon.
3.5 Performance requirements 
3.5.1 Radial Radial Circular Run round roller runout should not exceed the requirements in Table 2. 
Table 2
 Roller length

 m / s

 <460

460 ~ 950

> 950 ~ 1600

 > 3.15

 0.50

 0.70

 1.30

≤ ≤ 3.15

 0.70

 l.00

 1.50
 3.5.2 axial movement in the 500N axial load, axial movement of roller value of not more than 0.7mm. 
3.5.3 Rotating roller resistance under the pressure of the 250N, in the cylindrical velocity 2.0m / s, its rotation resistance shall not exceed the requirements in Table 3. 
Table 3
Roller length, mm

 Rotation resistance, N

 Φ39 ~ Φ108

<460

 2.5

> 750 ~ 950

 3.0

> 1150 ~ 1350

 3.5

 Φ133

> 525 600

 3.0

> 790 ~ 900

 3.5

Φ159

> 675 750

 3.0

 > 1010 ~ 1120

 3.5
 3.5.4 intensity drop horizontal and vertical drop roller tests must meet the following requirements: 
3.5.4.1 All parts and welds shall not get damaged and cracking; 
3.5.4.2 Drop-axis displacement after the roller shall not be greater than 1.5mm; 
3.5.4.3 roller bearing tube and not loose; 
3.5.4.4 rotating roller after falling resistance shall not exceed the values ​​specified in Table 3, 1.5 times. 
3.5.4 axial load imposed on the idler shaft provided in Table 4 axial load, roller shaft (including bearing, seals) and care at the tube axis is not disengaged. 
Table 4
| | |
| --- | --- |
| | Applied axial load, KN |
| Φ89 ~ Φ108 |  10 |
| Φ133 ~ Φ159 |  15 |
 3.5.5 sealing performance 
3.5.6.1 dust sealing roller speed to 1450r/min operating 200 h, the amount of water shall not exceed 150g. 
3.5.6.2 tricking sealing roller to 1450r speed operation 24h, the amount of water shall not exceed 250g. 
3.5.6.33.5.6 roller life test life enhancement converted to real life roller of not less than 20000h. 
4. Inspection Rules 
4.1 The products must be behind the quasi-factory inspection.  Factory inspection and testing including type test. 
Factory inspection program for the external dimensions, radial, rotating resistance, axial load.  Type test items for the dimensions, radial, rotating resistance, drop test, the axial load, sealing performance (dust, water, tricking seal) and life test.
Performance of various inspection roller roller detailed performance test conditions.
4 4.2 The number and results of sampling by ZBD93009-90 in determining the terms of the implementation 5.2.1.
5 № logo, packaging, transportation, storage
5.11 roller must be clear in its side surface marker engraved with the company, in the tube the appearance of printing on the company name and phone 
Roller 5.2 Bundle packaging, packaging must be solid and reliable and should be shipped with packing list, 
53 packing list should indicate the following: name and size of roller, the number of gross and net weight of each piece, total gross and net weight, company name and the factory year, month and so on. 
5.4 The roller should be stored indoors. 
6 to ensure compliance with the demand side of the roller in the storage, use, installation, transportation rules, have, from the date of delivery within a year, roller due to poor manufacturing quality damaged or does not work, the supplier shall responsible for the free replacement idler for the demand side, demand side such as the quality of roller objection, the right to re-inspection, re-inspection may be conducted under the supervision of the demand side.
 A1 content and scope of the theme provided in this appendix and open coal mine, coal preparation and other workplace belt conveyor roller bearing requirements, test methods, inspection rules and signs, anti-rust, packaging and storage. 
This appendix applies to coal mines and open-air, coal preparation, etc. in the workplace with machines moving roller bearing (hereinafter referred to as roller bearings.) 
A2 term 
A2.1 rotation resistance: a pair of roller bearings in a certain speed and load of the internal friction between the parts, and its value converted to a test standard roller (108mm) cylindrical tangential force on the circumference.
A2.2 anti-card life: in particular working conditions, roller bearing parts or parts damaged by coal dust plug the gap, the resistance to rotation exceeds the value of the number of hours before the operation. 
A3 technical conditions 
A3.1 structural dimensions and performance parameters of roller bearings will be the nominal size and energy parameters in Table A1 
Table A1
Bearing

Diameter d 
mm

 OD D 
mm

Width B 
mm

 Chamfer rsmin inner circle 
mm

Cylindrical chamfer rsmim 
mm

204KA

 20

 47

 14

 0.4

 1

205KA

 25

 52

 15

 0.4

 1

305KA

 25

 62

 17

 0.4

 1.1

306KA

 30

 72

 19

 0.4

 1.1

307KA

 35

 80

 21

 0.4

 1.5

308KA

 40

 90

 23

 0.4

 1.5
 Bearing

 Ball diameter 
mm

 Ball Number

 Working speed 
mr / min

 Angle tolerance 
rad

 Limit load 
KN

204KA

8.7312

 7

<1200

0.004

11

205KA

8.7312

 8

<1000

0.004

12

305KA

11.5094

 7

<900

0.004

19

306KA

12.7000

 7

<850

0.004

23

307KA

14.0000

 7

<800

0.004

28

308KA

15.8750

 7

<650

0.004

36
 A3.2 Basic Requirements 
A3.2.1 roller bearings shall conform to the standards and procedures in accordance with the provisions of the approved manufacturing drawings and technical documents.
A3.2.2 roller bearing ring material, and its mechanical and physical properties of not less than YB9 GCr15 requirements; ring hardness is HRC61-65. 
A3.2.3 roller bearing cage material, its mechanical and physical properties of not less than 27 HG2-869 in the 1010 group Ⅱ group polyamide resin requirements. 
A3.2.4 dimensions of roller bearings tolerance (except chamfer dimensions) and the rotation accuracy should be consistent with Article 4.1.1 GB307.1 in the G-level tolerance requirements.
A3.2.5 roller roller bearing side face of the beating of the provisions of Table A2.
Table A2
Roller bearings mm nominal bore

Complete sets of roller bearing inner ring raceway end the beating цm

Roller bearing nominal diameter mm

Complete sets of roller bearing outer ring raceway end of the beating цm

More than

To

Maximum

than

To

Maximum

18

30

24

30

50

40

30

50

50

80

50

80

30

80

120

45
A3.2.6 roller bearing assembly outer ring chamfer should be consistent with the provisions of GB274, the assembly of the inner chamfer should be consistent with the provisions of Table A3.
Table A3
mm
rsmax

Radial

Axial

0.4

0.8

1.2
ZBD9300-90 
A3.2.7 roller bearing ring raceway surface roughness parameters Ra should meet the following requirements: Inner 0.16 ~ 0.25um, the outer ring 0.32 ~ 0.50um.
A3.2.8 roller bearing radial clearance should be consistent with the fourth group in Table 1 GB4604 requirements.
A3.3 performance requirements
A3.3.1 rotating roller bearing resistance shall not exceed the provisions of Table A4.
Table A4
Nominal diameter roller bearing, mm

 Rotary resistance N

 More than

To

12

24

 <0.20

24

40

 <0.32
A3.3.2 anti-card roller bearing life test shall not be lower than in strengthening 400h. 
A3.4 roller bearing assembly required purchased parts used must have a certificate, and inspection by the manufacturer after passing the technical inspection department, before the assembly.
A3.5 Other Requirements
A3.5.1 care does not allow visual inspection of bearing ring cracks, sharp corners and burrs.
A3.5.2 surface quality roller bearings, rotation flexibility, residual magnetic intensity should be consistent with the provisions of GB307.3.
A3.5.3 roller bearing cage and the ring file should ensure that there is a gap between the sides, not roller bearing cage and inner and outer rings collide.
A3.5.4 roller bearing ring raceway from the nominal diameter of the limit deviations in Table A5 requirements.
Table A5
Ball bearing roller diameter of a public path, mm

Scroll deviation from the nominal diameter mm

More than

 To

3

8

± 0.07

8

12

± 0.10